See what our graduates have to say...
2013 sees the first Graduates of our Chartered Banker MBA programme. Here a few of the Programme's graduates tell us what they thought of the programme and how it has helped them…
Brian Martin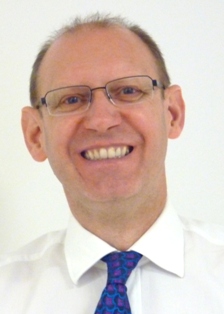 Head Of Risk, Financial Services Compensation Scheme
"The programme provided a broad range of topics to choose from enabling me to tailor my studies to my own and my employer's needs. All topics were relevant to the challenges current in our industry and therefore suitably challenging to study too. The tutors were excellent and they were supported by comprehensive and thought provoking materials. The Webex live tutorials also meant that knowledge and preconceptions could be debated amongst peers with almost all of the benefits of a "classroom" group.
Our industry is changing at a faster pace than for many years and it can be tricky keeping up, never mind getting ahead. The course therefore helped me to keep my personal development aligned with the most important aspects out there. The course has also been beneficial in career terms as I was able to select modules that are of value to my employer and to my role there. This has ensured that gaining the MBA wasn't just an academic exercise, in either sense of the expression.
Absolutely, I would recommend the course. Indeed, I think the emphasis ought to be reversed and we ought to be challenging our peers as to why they wouldn't want to pursue the course and its aims."
Mr Sudam Kaluarachchi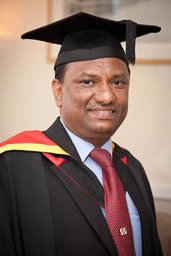 Senior Credit Manager, Commercial Bank of Qatar QSC
Master of Business Administration (Chartered Banker) with Merit
"The MBA (Chartered Banker) program was a fantastic and exciting learning experience for me, which enhanced my banking knowledge significantly specially in the areas of Risk Management, Credit & Lending, Financial Crisis Management, Professional Ethics and Regulations. Throughout the program I enjoyed modern delivery methods such as webinars, electronic media based communications via university's intranet and email and online workshops in addition to the traditional methods such as face to face learning, text book reading and classroom discussions.
MBA (Chartered Banker) program has become a beginning of a new chapter in my career with higher responsibilities which demands logical judgements supported by critical thinking. The knowledge gathered and the experience gained throughout the MBA (Chartered Banker) program has enhanced my ability to analyse a situation critically and find a suitable solution for a problem, which is vital for the survival in the modern highly competitive business environment.
Alan Frain
Senior Director, Acquisition Finance, Portfolio Management, Lloyds Bank
"Combining study with a day job in banking brought the subject matter alive for me and really helped to develop my views on the competitive landscape and strategic challenges facing my own employer. The support provided by Bangor University was first class with the lecturers demonstrating a real desire to support the students in getting to grips with the subject matter. I particularly enjoyed the revision sessions at the Bangor Management Centre, which enabled students to study and socialise in a modern purpose built facility.
I feel more informed across a wider spectrum of business and strategic issues, which has helped me in the leadership aspects of my current role. The Chartered Banker MBA qualification is not a guarantee of success in its own right but it does demonstrate a level of professionalism and commitment to the banking industry and I feel more optimistic now about my future career prospects than I did a few years ago.
For those looking to progress to managerial positions within banking or the wider financial services community, the Chartered Banker MBA is a course that I would thoroughly recommend."
Mr. Perry Rolle

Associate Director, Relationship Management | Fiduciary Services, The Bank of Nova Scotia Trust Company (Bahamas) Limited
Master of Business Administration (Chartered Banker) with Merit
"The CBMBA was certainly worth the investment in every aspect. I found the courses to be extremely practical and timely providing relevant information for Bankers at Senior Level Management, Mid-Level Managers and those who aspire to climb the Banking Corporate ladder. This program would also be beneficial to Compliance Officers by giving them a strong foundation to Professional Ethics and Corporate Governence… Bangor University in conjunction with The Chartered Banker Institute of Scotland ought to be commended for putting this 'cutting-edge' program together."
Ms. Cleopatra Rolle
Manager, Internal Audit & Corporate Governance, Central Bank of The Bahamas
Master of Business Administration (Chartered Banker)
"The CBMBA program has provided me with current and valuable information whioch is easily applicable to the real day to day activities of auditing in the financial services industry. The program provided an international perspective which is especially beneficial given the role of the Central Bank. The knowledge gained allows me to make an even greater contribution to the organisation's strategic plan, particularly as it relates to corporate governance. I highly recommend the program to persons within or those seeking to transition to the financial services industry."