Mr Bob Souster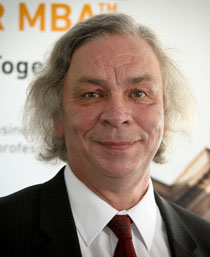 Name

Mr Bob Souster

Position

Module Director for Professional Ethics & Regulation

Email

Phone

Location

Chartered Banker MBA
Bob is a Partner in Spruce Lodge Training, a consultancy based in Northampton. Bob has twenty years experience in the banking industry, initially with a professional institute and then as a divisional manager with a mutual mortgage bank in Dublin. He has worked with over eighty banking organisations in the UK and overseas, as well as numerous regulatory bodies and NGOs, including the Financial Services Authority and the British Know How Fund (a division of the Foreign and Commonwealth Office).
Bob has written numerous books for the Chartered Institute of Bankers in Scotland, including Professionalism and Ethics, Financial Crime and Money Laundering. He has also written textbooks for the IFS School of Finance on Mortgage Lending and Insurance. He has lectured on the bankers' professional course at London Guildhall University, Sheffield Hallam University and the College of Commerce, Dublin.
During the 1990s Bob worked with a joint Barclays Bank/Coopers and Lybrand team helping several newly privatised banks in Poland to introduce formal risk management processes, training systems and activity-based costing methodologies. In the same period he assisted a Singapore-based college to launch its online learning platform for students of professional accountancy qualifications.
Bob is a chief examiner for a major professional accountancy body and for the Chartered Institute of Bankers in Scotland. He lectures extensively on professional courses on ethics, corporate governance and law throughout Europe and Asia. He lectures on programmes for Shanghai Jiao Tong University and SUFE, China.