Dr Rick Audas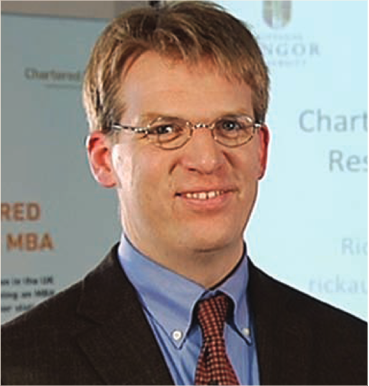 Name

Dr Rick Audas

Position

Research Methods Module Director

Email

Phone

Location

Chartered Banker MBA
A native of Canada, Rick gained his BBA, MBA and MA from Dalhousie (Canada) followed by a PhD in Economics from Bangor. His full time teaching posts include the Memorial University of Newfoundland and the Department of Economics at the University of Otago, New Zealand. He has also taught on distance learning degrees for Manchester Business School at both MBA and DBA level.
He has a wide range of research and consulting interests, some of which are outlined below:
Human Resources (in particular using administrative or survey data to examine employee absenteeism and turnover)
Geographic and occupational mobility of skilled workers
Developing league tables for important public institutions (e.g. schools, hospitals and municipalities)
Decision making in health (in particular in terms of the adoption of new technologies)
Educational outcomes
Compensation and Pay
Program and Policy Evaluation
His most recent publications in referred journals include:
'Trends of Abnormal Birth weight among Term Gestation Infants '(with Nicole Edwards) Paediatric and Perinatal Epidemiology, submitted February 2009
'Where have all the rural doctors gone?' (with Ann Ryan and David Vardy) Canadian Journal of Rural Medicine, January 2009.
'Provisionally Licensed International Medical Graduates in Canada' (with Ann Ryan and David Vardy) Our Diverse Cities, 5, 2008, p 109-114
'The effect of mid-seasons coach turnover on team performance: A commentary'.International Journal of Sport Science and Coaching, Vol 2, No 2..