Short Courses
Short courses offer relevant learning which can be applied to workplace scenarios from the very beginning of the course, with an international perspective, and minimal disruption to professional commitments.
The intensive learning is delivered through recorded lectures and interactive online seminars over a 12-week period. Having successfully completed the course, candidates can apply for the Chartered Banker MBA (CBMBA) gaining an exemption if successfully passed the module. Furthermore, a Continuous Learning Discount of 20% will be available against the CBMBA headline fee.
For those interested in progressing their award, taking a short course before applying for the Chartered Banker MBA (CBMBA) is a great way of understanding the study requirements and commitment when enrolled on a postgraduate programme.
Upcoming Short Courses
October 2022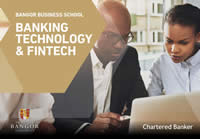 Short Courses
Any one of the 19 modules taught on the CBMBA programme can be offered as a short course. Please get in touch here to register your interest for any subject.
An organisation can request a short course specifically for their employees, with a minimum participation of 12. Corporate Discounts are available.
Short Courses are a great way of meeting the training needs for an organisation, whilst also awarding the individual internationally recognised postgraduate credits and an opportunity to advance their qualification.
Aimed at mid-career professionals working in the financial industry or regulation, however entry consideration will be given to individual with minimal experience or qualifications.
Short Course Fees
£2,250 per person inclusive of all teaching materials (£500 deposit is required to secure your place)

Register
To enrol on a short course, please contact us on executiveeducation@bangor.ac.uk
Contact us
For help and support, please contact the admissions team at executiveeducation@bangor.ac.uk or use the instant chat facility on the website.