Timothy Baswell Donaldson
Honorary Scholarship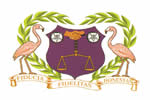 In celebration and recognition of International collaboration and Partnership with the Bahamas Institute of Financial Services, 50% Honorary Scholarship in the name of Timothy Baswell Donaldson is to be awarded.
Scholarship Criteria
Candidates must meet the entry criteria for the Programme and be offered a place for the Spring 2021 intake. Only self-funded candidates are eligible.
Chartered Banker MBA applicants with recognised postgraduate, professional accountancy or professional banking qualifications may be offered module exemption or entry on to an accelerated route and will not qualify for the Scholarship as the headline fees for these routes are subsidised.
Apply for the Scholarship
To apply for the generous award, the scholarship section within the online application form must be completed. Scholarships will only be open until the 19th March2021.
Click here to access the application form
The Timothy Baswell Donaldson honorary scholarship will close on the 19th of March 2021. Unsuccessful scholarship applicants meeting the scholarship criteria will automatically be awarded the Full programme Scholarship of £3000. All other applicants can access early enrolment discounts of up to 15% off when applying before the 26th of March 2021.
Need help?
For help and support, please contact the admissions team at cbmba-admissions@bangor.ac.uk or use the instant chat facility on the website.