Bangor University is delighted to sign new agreements with Jamaican and Botswana Banking and Financial Institutes
Bangor University and the Bangor Business School are proud to announce they have signed new partnership agreements with the Jamaica Institute of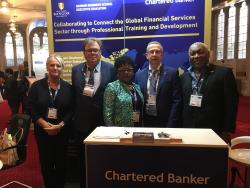 JIFS Partnership Agreement: Pictured left to right: Tanya Keith, Prof John Ahston, Darlene Jones, Simon Thompson, Dr Rickert AllenFinancial Services and The Botswana Institute of Banking and Finance. Both agreements will enable more bankers, financial regulators and financial executives to work with Bangor University to develop their ethical and professional practice and attain the coveted Chartered Banker Status. Professor John Ashton the programme director for the Chartered Banker MBA commented - 'We are absolutely delighted to extend and deepen our relationships with Botswana and Jamaica to enhance financial and banking training and executive development in these nations.' The relationships with Jamaica and Botswana are both long standing and have existed for 8 and 3 years respectively.
Both signing ceremonies were undertaken at The World Conference of Banking Institutes 2019 – Guildhall,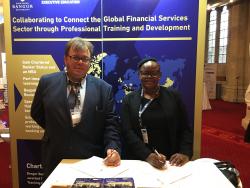 Botswana Partnership Agreement: Professor John Ashton & Lydia AndriesLondon, which was sponsored by the Bangor Business School and The Chartered Banker MBA. At the conference, Bangor University was very pleased to many other existing partners including the Chartered Institute of Bankers of Nigeria, Bahamas Institute of Financial Services and the Institute of Financial Services for Malta.
This Chartered Bankers MBA is the only qualification globally conferring both an MBA and Chartered Banker status from the renowned Chartered Banker Institute. The CBMBA dual-award qualification was developed to the 're-professionalize banking' internationally and has over 750 students and graduates from 63 nations.'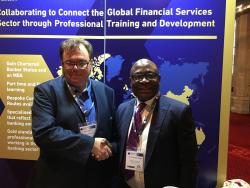 Proud Partnership: The Chartered Institute of Bankers of Nigeria
Publication date: 18 September 2019