Chartered Banker MBA receives an award!
It was an honour for the Chartered Banker MBA team to receive an award for their contribution to the work of the Caribbean Association of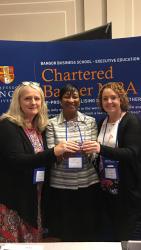 CAB 2017: CBMBA receive an award Banks through the programme and the Scholarships that have been awarded in the CARICOM region.
Here's a photo of Mrs Tanya Keith (Business Development Director CBMBA), Mrs Mary Popo (General Manager of CAB) and Mrs Lisa Jones (Programme Manager of CBMBA) with their award.
Publication date: 21 November 2017