Dr Clair Doloriert receives Fellowship in recognition of teaching excellence
Congratulations to Dr Clair Doloriert, Lecturer in Management and Organisation, who is to be awarded a Teaching Fellowship by Bangor University in recognition of her excellence in teaching.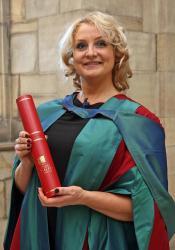 Dr Clair Doloriert receives Fellowship: In recognition of teaching excellence
Herself a graduate of Bangor Business School, Dr Doloriert has been a member of the teaching staff for 10 years. In 2009, she was appointed as Deputy Senior Personal Tutor for the School, leading the development of a new, online Personal Tutoring platform. Innovation has always been integral to her teaching methods, from creating a tool to support the psychological contract in the student/supervisor relationship, to incorporating collective and social learning into her teaching. In 2008, she was appointed as one of Bangor's first Academic Champions of Enterprise, tasked with encouraging staff to become more enterprising in their roles. Along with her colleagues, they devised Bangor University's first multi-disciplinary module, which eventually became an extracurricular activity – Enterprise by Design – aimed at cultivating entrepreneurship amongst students of varying academic disciplines.
Dr Doloriert has also been influential in encouraging innovation in learning methods outside the Higher Education sector. In 2016, she was awarded a Knowledge Exchange Fellowship by the Bangor University ESRC Impact Acceleration Account towards a project with North Wales Police, in which she will develop a knowledge repository which will enable the force to implement academic research to inform and help solve organisational problems. Elsewhere, she has been invited to design learning pathways in Social and Collective Learning for CIPD – something which she has always striven to integrate into her teaching at Bangor, largely through group activities and assignments.
Testament to Dr Doloriert's excellence in teaching is the number of students under her supervision who have won prizes for presenting the best dissertation in the year – five postgraduates, and two undergraduates. She scores consistently well in module evaluations (typically 85%), and, in 2016, she was awarded a CELT award by the University for excellence in supervision and mentoring.
This professional recognition is echoed in comments made by some of her current students:
"She has been inspirational in her supervision, she is able to deliver this in a coaching way"
"[She] has truly been a guardian through my academic path, she clearly makes out time for matters that concern my academic wellbeing as well as giving me the necessary push to keep testing my limits"
"[She] has been a constant and reliable source of support and encouragement"
Dr Doloriert will receive her Fellowship at the School's graduation ceremony on Monday, 17th July 2017. This is the fifth Teaching Fellowship awarded to Bangor Business School in as many years, with Sara Closs-Davies, Colin Bradley, Wendy Ashurst and Dr Siwan Mitchelmore all receiving the honour over the last four years.
Publication date: 17 July 2017