The Bahamas Institute of Financial Services Partner Visit to Bangor University
Bangor Business School and the Chartered Banker MBA team were pleased to host a delegation from the Bahamas Institute of Financial Services during a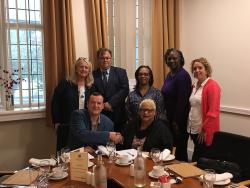 BIFS Partner Visit: Picture left to right: Professor Jon Williams, Kim Bodie, Tanya Keith, Professor John Ashton, Ruby Kerr, Jane Gibson, Lisa Jones recent visit to Bangor University. The delegation led by Executive Director Mrs Kim Bodie were welcomed to stay at The Management Centre where they attended a Partners Signing Ceremony and Dinner.
John Ashton, Programme Director for the Chartered Banker MBA commented – "It is a great pleasure to continue our partnership with the Bahamas Institute of Financial Services. BIFS are a valued partner and have worked with Bangor University to advance ethical and progressive forms of executive education in finance for 8 years."
We look forward to working with Bahamas Institute to professionalise banking and financial services internationally many years into the future.
The Chartered Bankers MBA is the only qualification globally conferring both an MBA and Chartered Banker status from the renowned Chartered Banker Institute. The CBMBA dual-award qualification was developed to the 're-professionalize banking' internationally and has over 750 students and graduates from 63 nations.'
Publication date: 18 September 2019