The Bahamas Institute of Financial Services Teams with Bangor University for Specialized MBA Program
Following on from a recent successful recruitment and business development trip to the Bahamas, one of Bangor University's Partners who are based in the Bahamas released the following press release:
Nassau, Bahamas
November 18, 2013
The Bahamas Institute of Financial Services welcomed UK's Bangor University last week to speak on their Chartered Banker MBA programme options that are specially tailored to working professionals and available through blended online learning.
The unique Chartered Banker MBA offers a dual accreditation through Bangor Business School and the Chartered Banker Institute in Scotland, and is the only qualification in the world to combine the MBA with Chartered Banker status. BIFS President, Tanya McCartney, expresses that BIFS is "pleased to aid in promoting Bangor University's Chartered Banker MBA program that is one of a kind in the world, and offered to bankers here in the Bahamas." McCartney, speaking on behalf of The Bahamas Institute of Financial Services, urges the importance of being certified in advancing individually and bolstering the banking sector, as a whole, in The Bahamas.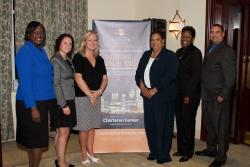 "We are about ensuring that persons that work in the financial service sector and in banking, in particular, are trained, are persons with qualifications that are internationally accredited. So this programme meets those criteria. This programme is one of a high quality and a high standard and we believe that if you enroll in the program you will add to the professionalization of the sector."
'Chartered Banker' is the highest professional award available to bankers across the world. Designed for busy professionals, the Chartered Banker MBA emphasizes professional and vocational development, enhancing the understanding and application of those skills required in 21st century banking. The Chartered Banker MBA provides a qualification that combines that which is demanded in the new, post-crisis banking environment.
Understanding that in The Bahamas, like in many other places in the world, the financial sector is still an up growth, recovering from difficulties in recent years, McCartney acknowledges "banking as a profession, we believe, has suffered some blows in the post recession era, and when people think of bankers, they don't necessarily think of ethics, they don't necessarily think of standards, but this program allows persons to become qualified, to go onto the job, and apply practical skills at a very high standard, and we believe it will bring integrity and standards back to the profession."
Bangor University's Business School is well regarded in the industry, and has most recently been ranked within the top 14 institutions (US RePEc Survey) in the world for banking research. BIFS member, Bangor University Bahamian alumnus, and now corporate banking professional, Cleopatra Rolle, took these merits and offerings into consideration in choosing Bangor's Chartered Banker MBA program when transitioning into the financial services industry. "I thought to seek out a programme that would strengthen my financial services skillset and background, and it was the perfect mix of another MBA that was Banking focused and also awarded the designation of Chartered Banker", says Rolle.
Though an undergraduate degree is a basic requirement for the program, Bangor Business School's Business Development Director, Tanya Keith, explains that there is both an option for seasoned industry leaders that are suitably qualified bankers with executive level experience, in addition to those with an MBA already under their belt to take advantage of a fast track route.
"There's a range of entry routes across three key programmes. The full programme is 24 months long. That is the longest route anyone would have to study. This route is for someone who has a first level degree but who doesn't necessarily have other professional or banking qualifications beyond that but they would have a reasonable amount of industry experience"
"The next two routes [are] for those with professional qualifications. Accountants, for example, would be eligible to join an accelerated route. Based on the merits of their previous learning we would look at, through their application, their industry experience and their previous qualifications. They would be entitled to exemptions. So a shorter track and faster route which would be 18 months of study."
"Then there is a third route which is known as our super accelerated route. [That] would be for people who have several years of banking and financial industry experience, as well as another MBA (or its equivalent) – and this is an MBA that would top it up, as this is specifically in the discipline of banking and finance. This would shorten that fast track route to only 12 months of study."
The aim of offering such tailored options is to make this MBA very accessible to those at a variety of levels, which adds to the uniqueness of the program and the reason for BIFS' advocating for the programme so fervently in seeing the benefits to The Bahamas.
Applicable to the Bahamas on a locally empowering but also world scale, CEO of The Chartered Banker Institute in Scotland, Simon Thompson BA, MBA states, " the need for 'qualified bankers' has never been greater. Customers, regulators, and employers demand skilled banking professionals committed to high ethical, professional and technical standards to help us build sustainable banking institutions. The Chartered Banker MBA is the gold-standard banking qualification for tomorrow's leaders."
Says Mrs Keith, "I believe that the mission and vision that Bangor University has developed and created, working in partnership with the Chartered Banker Institute in Scotland, is a very very strong brand and a very powerful message. [And] without the support and collaboration with Institutes such as BIFS, the program would not [have] reached the success that it has today."
About BIFS
The Bahamas Institute of Financial Services is committed to developing and promoting high quality training and educational programmes in the financial sector. The Institute works to develop the skills of employees, to respond innovatively to the needs of the business and financial community, and to develop creative synergy to foster and enhance sustain growth in the industry.
For more information about BIFS, please visit www.bifs-edu.com
Publication date: 4 December 2013